[GlowWorm Statistics - Only $9.95]

GlowWorm Statistics is a feature enhancement for GlowWorm FW that enables live network monitoring. Some firewall applications might provide the ability to monitor traffic on the basis of a port number or service name, but with GlowWorm Statistics, the full power of the Rules system can be used to define up to 16 different monitors. Choose to view only traffic pertaining to remote networks; or only traffic for a particular user; or many hundreds of other possibilities.

The DataMonitor plugin is the first plugin to use the powerful features of the Statistics module, to bring network monitoring to life. Based on Quartz 2D, the DataMonitor plugin shows cumulative transfer totals, a history graph of transfer rates and other information. The DataMonitor plugin is bundled with GlowWorm FW and is enabled by the addition of the GlowWorm Statistics module.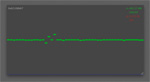 Enable statistics gathering on a per-Rule basis
Use any combination of Rule options to define the scope of a statistics monitor
Fast and efficient statistics gathering has negligible impact on network speed
Full functionality is accessible to 3rd party plugins
Source code for the DataMonitor is freely available
User-definable granularity in statistics reporting