[Forum]

Join the GlowWorm group to receive announcements, participate in discussion, post questions, get answers, share your thoughts, and possibly influence future development.


[Hosting]

Fast and affordable web hosting is provided by MediaTemple using their Grid-Server technology. Check them out and if you sign up tell them glowworm.us referred you.


[Awards]

I had not previously heard of Softpedia, so it is fortuitous that they came across GlowWorm on their own. They have awarded it the Softpedia "100% CLEAN" award. Very prestigious, I think.... And here I was worried that I might have accidently riddled my program with spyware, adware and virii. Thankfully not. Gaze at it in all its glory.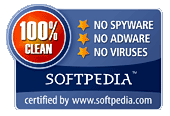 We now sport an additional award - the SoftLandMark 5 Star award. Similarly prestigious to the above award, I suspect. Enjoy.


Finally! We are DoDownload.com approved! Who is DoDownload? That's an excellent question. I have no idea. And why did they decide to list a version of GlowWorm that is four months old? I also have no idea. I think they might be a quantity-over-quality organization. But I'm in no position to turn down recognition.




[Links to Me]

The following folks link to the GlowWorm site ... and are immensely helpful in driving traffic here. In no particular order, they are:

MacUpdate, VersionTracker, Freshmeat, Apple, Softpedia, HyperJeff, Pure Mac, Softonic, AppleLinks, DoDownload.com, iNik and Help Net Security.



[Privacy Policy]

Our privacy policy can be found here.


[Copyright & Stuff]

Mac and the Mac logo are trademarks of Apple Computer, Inc., registered in the U.S. and other countries.

I borrowed CSS help from Digg and A List Apart.